Managing Costs Starts with Controlling Risk
If like most of our clients, managing costs is important to you, developing a comprehensive approach to managing risk is critical. Our experienced and highly qualified risk control consultants will work with you to identify what activities are driving claims and then develop solutions to reduce the frequency and severity of those claims.
Our risk control services can help
We work with regulatory compliance issues everyday, and we understand that they can be daunting and overwhelming for even the most experienced business leaders. Our risk control consultants work with a variety of industries and with our clients to assess the level of regulatory compliance in many different types of workplaces.
Minimizing Risk
Learning how to minimize risk will deliver numerous benefits to your organization. The development and implementation of an effective safety management system is key to managing risk. There are many components to a safety management system. At its core, an SMS system is a continuous risk improvement process. This process can be applied to all types of risks encountered by your organization.
A continuous risk improvement process is defined as Planning, Identification, Implementation and Analysis. Or Plan Do Check Act: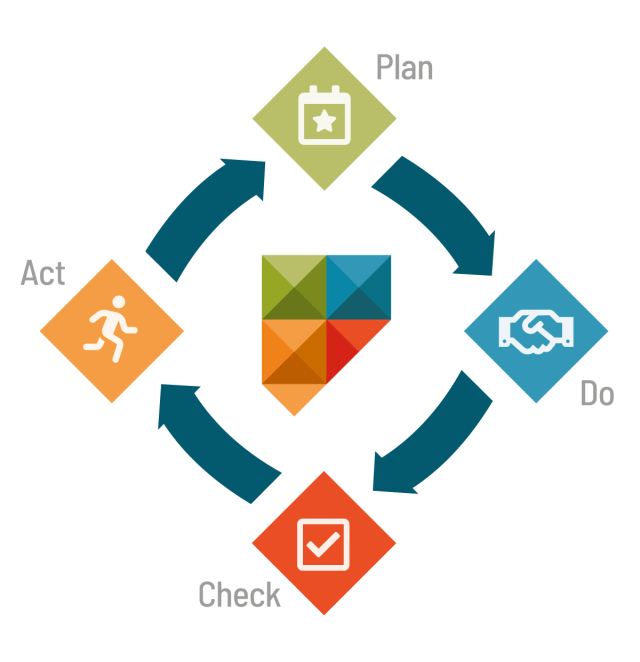 Starting with an understanding of what activities are driving your losses, our Risk Control Services offer a variety of innovative strategies and tools to eliminate or reduce risk. These could include:
Risk Control Assessments and Poms Risk Organizer (PRO)
Identifying physical hazards in the work environment is the first step to reducing risk in the workplace. Poms Risk Control Consultants utilize our revolutionary risk exposure collection, distribution and abatement system that changes the way organizations manage risk.
Our consultants conduct comprehensive risk control assessments of your organizations operations. The purpose is to identify potential physical exposures and make recommendations to correct those hazards before losses occur.
The PRO Risk Control Survey and Abatement System enables Poms' clients to browse the results of risk control assessments through an innovative on-line interface. Organizations may collect and sort risk control recommendations across multiple site and regions.
PRO compiles risk exposures into a database and is delivered to you via an on-line database.
Administrators then rank items by level of urgency, assign abatement to individuals or departments and estimate repair costs.
Safety training
Our consultants develop customized and effective training solutions on a variety of topics. We can tailor our training for employees or supervisors.
Training topics include:
Forklift
Various OSHA regulatory compliance areas such as; IIPP, Hazard Communication, Lock-out/Tag-out, Bloodborne Pathogens, etc.
Ergonomics
Emergency Preparedness
General Safety
Defensive Driving
Ergonomics assessments/training
Poms consultants are knowledgeable in ergonomics risk exposures. MSD injuries are a leading cause of employee injuries. Our consultants conduct office ergonomics assessments to identify the ergonomic risks associated with various tasks. Conducting ergonomic evaluations at the first sign of employee discomfort will have a significant impact on your loss prevention efforts related to office ergonomics.
Training employees on ergonomics risk hazards and how to reduce or minimize those hazards is a very important part of a comprehensive safety management system. Empowering employees with the ability to understand basic body mechanics and how proper use can reduce or eliminate risks.
Regulatory program review and program development
Our consultants will work with your organization to understand the various types of regulatory safety programs that are applicable to your operations.
Our consultants will assist in the review, development and implementation of the necessary programs. This could include: Injury and Prevention, Lock-out/Tag-out, Hazard Communication, Respiratory Protection and many other regulatory safety programs.
OSHA and Health and Safety Gap analysis
Poms Risk Control Consultants conduct comprehensive reviews of hazards and loss exposures for various types of organizations. The purpose of the GAP analysis is to compare your organization against best practices with respect to Occupational Safety and Health Management. The analysis will focus on the following:
Level of OSHA compliance
Identify the top occupational health and safety related risks to your business
Development of recommendations for improvements
OSHA consultation services
Poms Risk Control Consultants will help you prepare for an OSHA site inspection.
We also provide consultative support and guidance should you receive OSHA violations and/or citations.