Safety
Workplace Safety Tips to Reduce Slip and Fall Injuries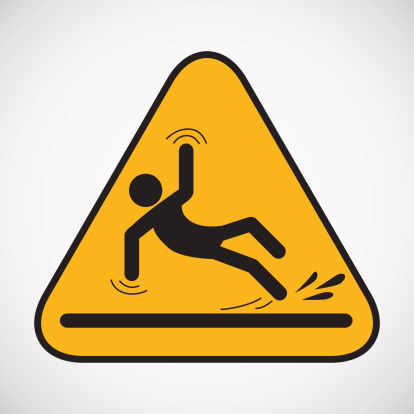 Hazards that create a potential for slip and fall injuries are some of the most common risks faced by businesses today. A slip can occur during a simple walk on a warehouse floor. A fall can occur while performing maintenance from a ladder.
According to the Bureau of Labor Statistics, 605 employees were killed and an estimated 212,760 more were injured by falls in 2009.
Slip and fall injuries also cost an estimated $70 billion annually in the United States.
Unsurprisingly, the construction industry sees the highest frequency of fall-related deaths. What might be surprising to many people, though, is that the most non-fatal fall injuries occur in the health services, wholesale, and retail sectors.
What follows is a list of circumstances that exacerbate the potential for a workplace fall:
unprotected edges
slippery walkways
wall openings and floor holes
unsecured ladders
inappropriately used fall protection
Here are some steps that you, as a business owner, can take to avoid slip and fall injuries at your workplace.
1. Require A Safety Harness For Employees Who Work At Heights
Thanks to the law of gravity, the potential for a fall is greater for those who work at heights than it is for people who work at ground level. Also, employees who work at elevated levels are subject to a greater amount of bodily damage should they slip and fall.
That's why it's important to ensure that all of your employees who work at heights make proper use of a safety harness. That way, even if they slip, the harness will effectively "catch" them and prevent serious injury.
2. Be Sure That Proper Lighting Exists At The Workplace
People are more likely to fall if they can't see what they're doing. Be sure your workplace is adequately lighted so that any potential obstacles in someone's path are clearly visible and can be avoided.
3. The Yellow Sign
If you have janitorial staff mopping the floors every now and then, be absolutely certain they are aware that they must place a yellow sign near wet surfaces to caution people that the floor is slippery. This is an ounce of prevention that is worth a pound of cure.
4. Fix Uneven Pavement
Uneven pavement is a tripping hazard. If you see any uneven pavement at your workplace, contact maintenance to smooth out the flooring. If you don't have a maintenance person on staff, outsource the project.
Slip and fall injuries are very common across a variety of work sites. Be certain that you've taken the proper measures to minimize the risks associated with those types of injuries at your workplace.
Like this article? It's easy to share:
Related Articles